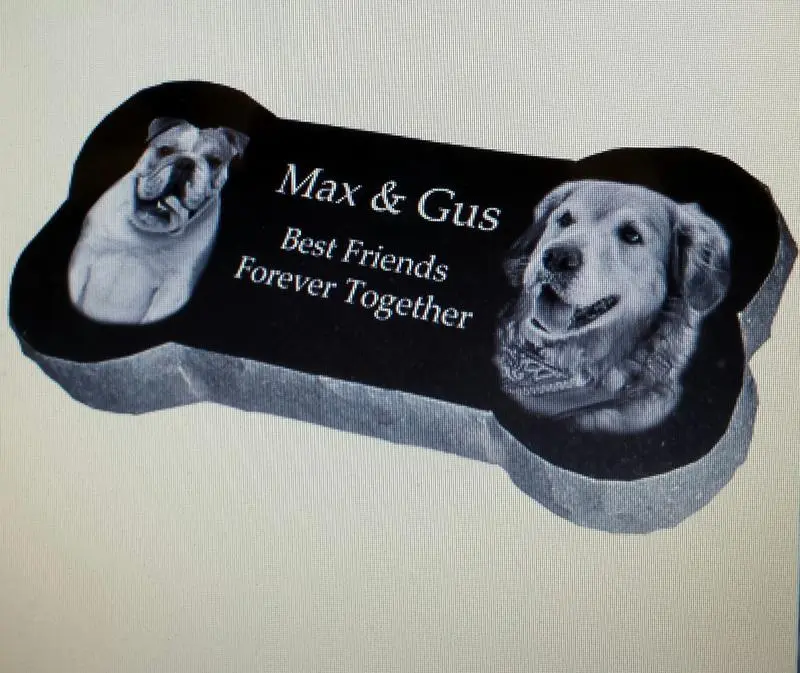 Pet Memorials
Memorialize Your Beloved Pet
Your pet is a beloved member of your family. Who else greets you so eagerly when you return home? Who else senses as quickly that your mood is down and offers you sympathy?
Your pet is included in family photos. You share your pet's antics on social media. Pets bring a special joy to our lives. 
You fret over your pet's health. You monitor your pet's diet and exercise more closely than your own. There is almost nothing you wouldn't do for the well-being of your pet. 
Pets provide us with unconditional love. Their devotion to us is pure and simple. Our love for them is the same. 
Your pet's passing creates a significant impact on your life. It's only natural that your sorrow might be intense. You know that your pet will never be forgotten but will live forever in your heart. Yet it is fitting to pay tribute to your pet with a pet memorial. 
Memorial Options
Faith Monuments offers a number of pet memorial options that are sure to be as unique as your pet:
Flat Markers: These granite markers are durable enough to place on the ground in your garden and beautiful enough to display them in your home. They can be customized with your pet's picture and can come in any custom shape you like.
Memory Tiles: These quality tiles are available in a number of shapes, ranging from squares and rectangles to ovals, octagons to hearts. You can customize your tile with your pet's name, image, and words of tribute.
Garden Memorials: We offer different styles of containers to hold your pet's ashes to be placed in the beauty of your garden.
Miniature Monuments: Although these monuments are small in scale they convey the depth of your love for your pet. 
Here at Faith Monuments, we understand the profound sorrow you feel following the loss of your beloved pet. We offer you compassionate service to help you create a fitting tribute to your pet, as with any other member of your family. Call us today to discuss pet memorial options for your beloved pet.
Contact us to discuss your monument needs.
989-401-4477
We have many customizable options to choose from, let us help you find the best solution for your needs.